Homes, Communities, Hope + You
COVID-19 has laid bare the extent of the housing crisis
The effects of COVID-19 have not been equal across our Rutherford County community. This is an unprecedented crisis, and low-income families are at a higher risk as a result of existing vulnerability and inequity.
Please join us for our
Homes, Communities, Hope + You 
campaign and help us make the dream of home ownership a reality for families in Rutherford County!
OR MAIL A CHECK TO Rutherford Co. Area Habitat for Humanity, 850 Mercury Blvd., Murfreesboro, TN 37130, ATT: Homes-Communities.
Rutherford County families are struggling with:
> Unaffordable rent (over 30% of income going to housing and often sub-standard conditions)
> Crowded living conditions (no way to social distance or quarantine in their home)
> Uncertainty of employment, furloughs and cut backs – low job security.
> Extra virus exposure from working at "at risk" jobs (grocery and retail stores, hospitals, food/meat processing, shipping and manufacturing)
> Underlying health
vulnerabilities
(many low-income families do not get regular medical care, have poor nutrition and/or have health issues such as diabetes, heart problems and poor circulation)
> Disproportionate financial vulnerabilities (low savings, inability to get loans, predatory lending and high interest rates)
Please help them face the challenges of the Coronavirus pandemic!
Currently,10 families are in our pipeline working toward their homeownership opportunity.
Your donation will ensure that we continue to deliver safe shelter to families and revitalize neighborhoods in Rutherford County.
We plan to build or repair 8 homes in 2020-21 and need a total of $200,000 additional funds to make those hopes a reality.
Low-income homes are particularly at risk, given their concentration in at-risk jobs.
Twelve million households have at least one contributing member working in an at-risk industry.
COVID-19 disruptions are causing economic instability and putting a concentration of service industry and other hourly jobs at risk.
This disruption has immediate and real-world consequences for the families we serve.
5 Ways That YOU Can Help:
Buy some construction materials for the Habitat house builds ($20 bag of nails, $50 of interior insulation, etc.)

Make a one-time or recurring gift to support a family in our Future Homeowner pipeline.

Participate in or sponsor a virtual event (let us know any ideas that you have!)

Sponsor a House Build or Day Build.

Engage your employees in workplace giving and Peer-To-Peer fundraising for Habitat.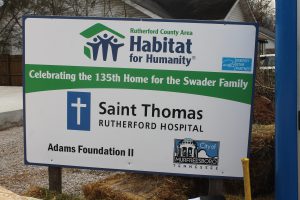 COVID-19 has placed huge stress on our work as a non-profit agency.
A large source of sustained funding – proceeds from our Habitat ReStore – was lost during the 46 weeks of shut-down (about $1000/day!).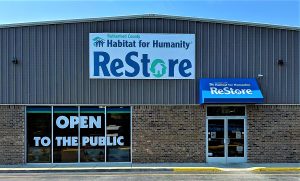 Our homeowner mortgage payments have been reduced as people lose jobs. And we've cancelled fundraising events.
Now more than ever, families need affordable housing. And now more than ever, we need your support.