History of Habitat
Habitat for Humanity International
More than 25 years ago, Millard and Linda Fuller, co-founders of Habitat for Humanity International, sensed the need for leadership to provide affordable housing for worthy individuals trapped in undesirable housing because of circumstances out of their control. That vision became Habitat for Humanity, an organization with a unique mission to work in partnership with God and people everywhere, from all walks of life, to build and renovate homes, and to create communities that allow people to become all that God intended them to be.
The work that began in 1976 has developed into one of the most successful non-profit organizations in the world.
> Habitat for Humanity has been named "Brand of the Year" for several years in the social services nonprofit category based on the Harris Poll EquiTrend® Equity Score.
Today, Habitat for Humanity  International operates around the globe and has helped build, renovate and repair more than 600,000 decent, affordable houses sheltering more than 3 million people worldwide.
The vision is clear: to eliminate substandard housing across the globe. Habitat for Humanity is doing just that, one house at a time, through the leadership of over 2,000 strategically located national and international affiliates.
For more information on Habitat for Humanity International visit their website at www.habitat.org.
---
Rutherford County Habitat for Humanity
This affiliate was established by a group of volunteers in 1989. Although Rutherford County Area Habitat for Humanity shares the mission, goals and values of Habitat for Humanity International, we operate independently and are responsible for raising our own funds for our programs. After nearly 13 years of operating under purely volunteer leadership, RCHFH hired an executive director in 2002. The turn to professional, paid staff has helped guide RCHFH into a new level of service to this county.
As of August, 2020, Rutherford County Area Habitat for Humanity has built 165 houses in Rutherford County, and repaired or renovated many others, including an active Aging In Place program in 2019 and 2020. 
"Strength, Stability, Self-Reliance and Affordable Housing". There is so much more to the Habitat story than the construction of homes. Homeowners become productive members of our community; they pay taxes just like any other homeowner and walk with self-worth that was in many cases absent before. Homeownership has been a stepping-stone for many RCHFH families to improve other areas of their lives.
On October 11, 2003, Rutherford County Area Habitat for Humanity opened a "ReStore", which is a resale store selling new and used building and remodeling supplies. Area vendors, builders, and individuals have donated our entire inventory. Every single dollar spent at the store goes directly to Rutherford County Area Habitat for Humanity. Our goal is to eventually cover 100% of our overhead costs through money earned in the ReStore, letting every dollar donated to Habitat go directly to constructing houses. Habitat for Humanity does not give homes away. The commitment our partner families make to Habitat for Humanity is not light, but as each one of the homeowners will tell you, it is worth it. The incoming mortgage payments from all of our partner families help make it possible for other families to realize their long awaited dreams of homeownership.
The goal of the Rutherford County Area Habitat for Humanity affiliate is to eliminate all substandard housing in our county and replace it with simple, decent homes fitting for people who are part of this incredible community. A long-range plan has been developed and implemented to address the growing need for adequate housing, including the generation of all of the essential resources required to accomplish this huge undertaking. It is important that we tackle community issues together and share in this work that is designed to help provide better lives for many individuals.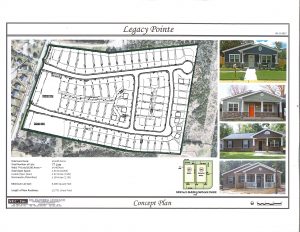 Rutherford County Area Habitat for Humanity will start building it's first affordable housing subdivision, Legacy Pointe, in September 2020. The community will eventually house 77 new homes and empowered families.