2021 Women Build
March 8-15, starting on International Women's Day.
click to HELP US BUILD!!
Future Homeowner: Sabrina
Build Site: Legacy Pointe, Twin Oak Drive, Murfreesboro
Lot 16, 2816 Opportunity Lane / House Construction: March – May 2021
See The Cost of Home ↓
Thank you to our sponsors!
Contact us for more sponsorship opportunities: melissa@rchfh.org
Celebrating International Women Build Week, the Women Build is a national Habitat build, starting with Women Build Week in early March and culminating with the construction of a house in our new Legacy Pointe subdivision of affordable homes.
There are several ways that you can get involved:
Visit our Virtual Volunteer support page:
> Buy a "Girls Play House. Women Build Houses" T-shirt and wear it with pride!
> Show your support! Buy a Flower Yard Sign for Sabrina's house and Dedication / Ribbon Cutting. Your name or company name will be displayed on this!
> Provide some products or Stock The Pantry for our homeowners.
We are so proud of our Future Homeowners who are reaching for their dream of homeownership and a bright future for their family!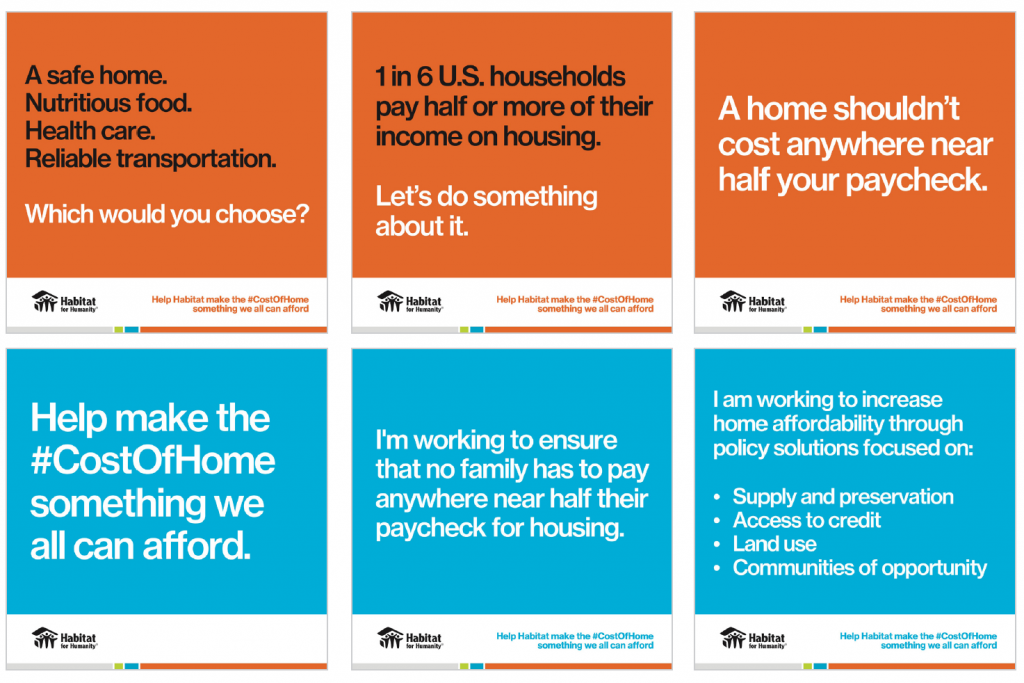 Families all across the United States are paying too high a price to cover the cost of home.
Everywhere you look — cities, suburbs, rural areas — the stability that home should bring remains out of
reach for far too many families.
At Habitat for Humanity, we know that a family should never have to spend more than 30 percent of their
income on a home. But consider that even before the coronavirus pandemic, more than 18 million U.S.
households were paying half or more of their income on a place to live. And now, as the significant economic
impacts of COVID-19 continue to unfold, the number of families struggling to make ends meet is only growing.
That is unacceptable.
That means that even more families are denied the personal and economic stability that safe, decent and
affordable housing provides. Instead, more and more families are forced to make impossible choices.
Safe homes. Nutritious food on the table. Health care. Access to good schools. Reliable transportation.
Which would you choose?
Your home shouldn't cost you anywhere near half your paycheck.
Home shouldn't cost you your family's health. Home shouldn't cost you your kids' education.
When the cost of home is your family's future, the cost is too high. When the cost of home is any family's
future, that's something none of us can afford.
We know the complexities that surround the cost of home. We also know the struggle, stress and pain of far
too many families in our communities. Families who have suffered from redlining, racial inequality and the
housing disparities that follow. Families who have worked hard and still come up short, not because of their
own efforts but because of systemic issues and an inequitable economy. And we know that those with the
fewest resources are always the ones who are forced to make the hardest choices.
We have to take a stand and declare our commitment: Habitat for Humanity will work to ensure
housing stability and that no family has to pay more than half of their paycheck to cover the cost of
home.
Through our five-year Cost of Home campaign, we commit to mobilizing our local Habitat
organizations, our partners, our volunteers and community members across the country to find the
solutions and help create the policies that will allow 10 million individuals to meet their most basic
needs.
Everyone deserves to build the foundation for a stable, healthy future for themselves and their families — no
matter who they are, where they live or how much money they earn. Every family deserves the chance to
thrive.
Help us make that possible. Help us make the #CostOfHome something we all can afford.